Shopping Cart
Your Cart is Empty
There was an error with PayPal
Click here to try again
Thank you for your business!
You should be receiving an order confirmation from Paypal shortly.
Exit Shopping Cart
Author of The Dividing Lines and Bad Things to Good People
| | |
| --- | --- |
| Posted on October 11, 2015 at 9:15 AM | |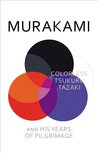 Colorless Tsukuru Tazaki and His Years of Pilgrimage by Haruki Murakami

My rating: 3 of 5 stars


Murakami's last three novels have sold millions all over the world, yet perhaps his best work in the last fifteen years has been his least ambitious. The 2004 urban thriller, After Dark, marked a departure from his previous exploits and concentrated more on a film noir-type setting in Tokyo's 24-hour metropolis. Now largely forgotten at the expense of Kafka on the Shore (2002) and IQ84 (2009), After Dark has a sinister backdrop of violence brimming through every page, and concentrates on themes of jealousy and neurosis instead of the author's usual preoccupation with isolation and the melancholy nature of existence.
Unfortunately, those hoping for a return to this setting may be disappointed with Colorless Tsukuru Tazaki and his Years of Pilgrimage, but there's still plenty to like. If anything, this new offering feels like a return to his classic 1992 novel South of the Border, West of the Sun. The main protagonist makes few friends in his adult life; spends his time reading and studying; laments the passing of decades; buries the distant past; and has the occasional relationship with a woman before it fades away like a sunset over the Nagoya horizon. 'There's nothing to cling to. I still have that fear, even now – that suddenly my very existence will be denied and, through no fault of my own, I'll be hurled into the night sea once more. Maybe that's why I haven't been able to form deep relationships with people,' Tsukuru admits.
Like all Murakami's main characters, Tsukuru is not prone to self-pity, but devoted to a more austere form of reflection that accepts the imperfections of the world. Nevertheless, his story is shaped by a traumatic event in his first year at University, when his four friends – the only friends he ever had – banish him without explanation. Life for the next sixteen years is like a void, interspersed with episodes of meditation on the totality of death and punctured by alarming thoughts that maybe he will continue to live like this, on the periphery of life, never complaining, but always succumbing to the comfort of isolation.
What follows is a stunning revelation that catches Tsukuru by surprise and only confirms his ineptitude in reading other people. How could he not know that one of the group was in love with him? Or that the two male friends in the quintet relied on him to keep the harmony? Too obsessed with his own perceived mediocrity, perhaps too ashamed of his inability to relate to his family and those around him, Tsukuru, it seems, has more to offer than he imagined.
All the ingredients are here for a four-star review, but it might just be that Haruki Murakami is becoming predictable. The disappearance of Tsukuru's sole college friend without trace comes as no surprise; nor does the revelation that his current girlfriend is seeing another man. Anybody familiar with the great man's literary output has come to expect the unexpected; no explanation will be offered, random events will never be rationalised, people are capable of doing evil without knowing why. In a debut novel this would be a welcome addition to Contemporary Literature, but we are talking about the greatest writer in the world here. A Haruki Murakami novel is supposed to change your life and force you to see the world in a different perspective – part escapism, part solitude, part adventure.
But you cannot shake the feeling that certain passages in this book are stalling when they should be enlivening the reader. The last section feels like an overdue compensation for four consecutive chapters of character dialogue. And talk of people with empty shells who live as refugees from the humdrum existence of modern life is now starting to sound a bit too much of a cliché, albeit one Murakami helped to create with his own originality. To put it another way: there are times when this novel reads like somebody imitating a Murakami classic.
That does not mean, however, that this book is worth passing over. The author's research into his characters' identities is better than ever. Aka, the former rugby player and car salesman will make you want to buy a Lexus Hyrbid when you hear his description of the car's gear changes; Ao, the gifted academic who makes a fortune as a business guru gives a remarkable spiel on how to motivate a company and reach out to the 70 percent of the workforce that want to do nothing but follow instructions.
The female characters are even more commendable – anyone who says men cannot create believable female protagonists will need to think again. Kuro and Shiro, the two girls in the quintet, are by far the most interesting cast members. Tsukuru is astonished to learn how Shiro developed an eating disorder to eliminate her regular periods, and is equally perplexed when Kuro admits she was in love with him. As he later finds out when confronting the group sixteen years later, perhaps he didn't even know himself at this time.
The usual praise must also go to Philip Gabriel, whose translation from the Japanese captures the simple, mellifluous rhythm of Murakami's writing with some wonderful passages. Tsukuru's experience listening to Franz Liszt's Years of Pilgrimage is, 'Like the mysterious outline of microorganisms swimming across the circular vision of a microscope.' The description of rush hour at Shinjuku station, where an estimated 3.5 million people pass through on a daily basis, is poignant: 'Everyone is scurrying to get to where they need to be, to punch their time clock, and no one's in a great mood.' A few biting criticisms of contemporary Japan are also buried beneath the noise, but come through, nonetheless. The bourgeois Japanese women that devote their entire lives to getting their children in to the most expensive private colleges do not escape Murakami's disdain; nor does the competitive nature of the Japanese secondary education system, with its emphasis on after-school 'cramming.'
But perhaps the most notable aspect of this book is the author's continuing fascination with violence and rape, themes that have been present in every book since his 1994 opus, The Wind-up Bird Chronicle. Indeed, it seems impossible to pick up a contemporary Japanese novel that isn't obsessed with these issues if the likes of Hitomi Kanehara and Ryu Murakami are anything to go by. Though a question for sociologists, it would be interesting to know why such a low-crime, orderly society is so fascinated by violence. Maybe Haruki Murakami might want to answer this in a non-fiction study, just like in his masterful thesis on the 1995 Aum Shinrikyo terrorist attack on the Tokyo underground.
It's hard to say where Murakami goes from here, but let's hope this is not his last novel. The capitalist world needs Japan's greatest author more than it needs paracetamol, Viagra, cocaine and internet dating. Indeed, nobody can convey the loneliness of the affluent society like Murakami, even when he's not at his magisterial best.



Categories: None
/